JMake's 10 Takes Coming In Hot: Week 11
Pictured: East Union Urchins football helmet |
Photo by John Macon Gillespie
For some teams, this is the last week of the regular season, while for others, their postseason trips will start in two weeks.
Regardless of where you fall on this spectrum of games, we're nearing the end of our journey in 2018, which is very #sad, but it also reminds me that we will soon have playoff football in Mississippi.
Big mood.
Speaking of moods, what do y'all think of that East Union helmet up top? I know, I know. Some of you are going to say, "JMake, brown and yellow are disgusting colors. Why are they together on a football uniform?"
That's fine if you hold that opinion. You have a right to be wrong, and you're just exercising that right. It's fine. I get it.
The fact still stands: LONG LIVE THE SEAHORSE HELMET, AND LONG LIVE THE URCHINS' COLOR SCHEME.
East Union picked up a big win last week to win their first region title in program history, which is pretty cool, if you ask me, and I got to be on-hand for the event.
That is in the past, however, and you have no doubt returned to my words this week to hear about Week 11 of the Mississippi high school football season. Or to look at GIFs. Whichever.
Let's dive into both, shall we?
1. Shannon wins its first region title since 2008.
LET'S START OFF WITH A BANG.
This is arguably the game of the week in North Mississippi as Shannon and Pontotoc meet to determine the 2-4A Champion. Shannon comes into Friday's game having scored more than 52 points in each of its region games this season (FIFTY. TWO.), all of which have come in the last four weeks. Pontotoc has escaped scares the last two weeks against Caledonia and Itawamba AHS, and I think they fall behind early in this one, as well. The only difference in this game is that Shannon's offense can continue to put up points when they have an opponent down, and I'm just not sure that the Warriors can contain it.
Give me the Red Raiders this week.
2. No. 2 Horn Lake rolls Tupelo.
This is another big game in North Mississippi, but I really don't feel this one being that close.
Tupelo has really struggled at times this season, and there are some who believe that Horn Lake is the best team in the state. The Eagles' defense gets hyped up as one of the best (the best?) units in the state, and rightfully so, but their offense is nothing to sneeze at either. Horn Lake has a 1,000-yard passer in Raydarious Jones and two backs who have rushed for over 600 yards, one of which, by the way, happens to be Jones again.
Although Tupelo regained quarterback Stephon McGlaun last week, his performance against DeSoto Central wasn't lights-out, which can probably be attributed to rust. Still, I like the Eagles to take care of the Wave on Friday night.
3. Biggersville becomes 11-0 against Falkner.
I said last week that Biggersville would lose to both Okolona and Smithville and enter the playoffs as the three seed out of 1-1A.
Yeah, that was wrong.
Biggersville fell behind early against Okolona last week, but just decided to rattle off 40 points and secure a 40-21 win over the reigning region champions. I have as many division championships in my life as Biggersville has in its football history (which is none, by the way), but they have a real shot to change that next week against the Seminoles of Smithville.
This story has been amazing to follow this season. I like the Lions to take care of business against the Eagles this week.
4. Region 4-3A burns to the ground because #chaos.
This is going to get very confusing very fast, so bear with me.
There is a very strong chance that we're going to have to break out the MHSAA's ridiculously complicated tiebreaker rules this week for this region, and it's so funny because journalists are the ones that usually break down the playoff possibilities, but journalists are usually not great at math.
Oh well.
Let me explain how we can reach unparalleled chaos this week by showing you the current Region 4-3A standings. Region record is indicated in the parenthesis, since that's how divisional standings are determined.
1. Houston (4-0, division champ)
2. Choctaw County (3-1, playoff-bound, No. 2 seed secure)
3. Aberdeen (2-2, potential chaos)
T4. South Pontotoc (1-3, potential chaos)
T4. Hatley (1-3, potential chaos)
T4. Nettleton (1-3, potential chaos)
You can find the MHSAA's official tiebreaker rules here (you'll have to scroll a while, but they're there), but I'll break this down the best I can. These rules are a nightmare, but let's give it a go.
If two teams finish with the same region record, the tiebreaker will come down to their head-to-head matchup. If three teams are tied with the same region record, however, it essentially comes down to point differential in the head-to-head games between all three teams. There's a chance that multiple teams finish with a 2-3 record, and there's a chance that multiple finish at 1-4.
There are two teams with locked playoff berths, but none of the bottom-four teams in the region are eliminated from the playoffs mathematically, meaning there are four teams fighting for two seeds on Friday night. Here are the matchups we'll see this week in 4-3A as well as a live shot of the region.
Houston @ Nettleton
Choctaw County @ Hatley
Aberdeen @ South Pontotoc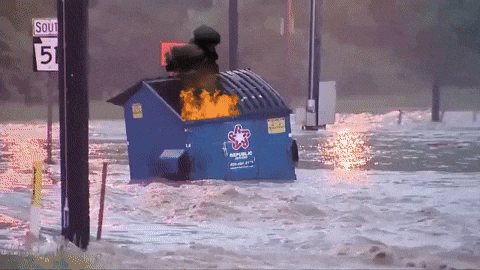 Let's get weird, folks.
5. Simmons keeps win streak alive against Ray Brooks.
I'm way more fired up for this game than I should be. I don't think there's a question that Simmons is going to win, but Ray Brooks is good, y'all. The Tigers knocked off East Webster two weeks ago and scored 38 points against a solid Eupora team in a losing effort last week. By the way, back-to-back trips to Webster County by a team in Benoit, Mississippi, is just plain weird, but you do you, Ray Brooks.
Anyway, I don't think Simmons has much trouble with the Tigers this week, but the winner of this game wins Region 2-1A, so there's a lot on the line. Let's go, Delta football.
6. East Union tops Strayhorn, finishes undefeated in region play.
As I mentioned above, the gloriously-clad Urchins won Region 1-2A last week in their blowout of Baldwyn, and I'm really impressed with how well Kevin Walton has his team playing this season. Running back Joel Wilkinson is a freak of nature, and freshman quarterback Ty Walton, although young, is very capable with the ball in his hands.
I like East Union to get it done in their regular season finale and possibly make a run in the playoffs.
7. Water Valley wins, seals first division title since 2011.
This is another candidate for game of the week in North Mississippi. Water Valley and North Panola have been on a collision course this year as originally predicted by our very own Water Valley corespondent Mack Gordon. This one's for all the proverbial marbles in Region 2-3A.
I like the Blue Devils in this game for one reason: defense. I think that Water Valley's defense is good enough to force just enough stops on the road for their offense to get ahead and keep it that way. I think this game is a close one, but give me Valley taking home the region title.
8. Calhoun City tops Eupora, crowned champs.
Calhoun City's road has been fraught with peril, but here they stand ready to be region champions if they play their best football, which I think they will. Although the Wildcats are not at the same level they have been in years past, I still think they're arguably the best team in 2A North and should take care of business Friday.
Give me the Cats.
9. Nanih Waiya takes care of Smithville.
Smithville proved me wrong earlier this season when I picked them to fall to Okolona, but the Warriors are just so darn good, man. I saw Nanih Waiya play in person a few weeks ago, and I think they have a chance to repeat as 1A South Champions. Smithville is poised for a deep playoff run in the North themselves, but I like Nanih Waiya to get it done this week.
10. Lafayette squeaks past Olive Branch.
Another great game in North Mississippi. Shocker.
I have an issue picking this game because these teams are just so close. Both lost to West Point by one point and could have escaped with wins. Both teams are very talented on both sides of the ball. I could see this being another close game in this region, maybe even another one-point game.
Why do I like Lafayette? I think the Commodores' two 1,000-yard rushers (quarterback Randy Anderson and running back Lance Stewart) will be too much to handle. Anderson could also eclipse the 1,000-yard passing mark this season, and I think his talent along with a stout Lafayette defense will get it done this week.