JMake's 10 Takes Coming In Hot: Week 10
Pictured: Houston High School football helmet , Sept. 28, 2018
Photo by John Macon Gillespie
Hello, all, and welcome back.
Surely you're all familiar with how this works by now. I write some Takes. You click on the link. You read the Takes. You lambast me on Twitter. Just making sure we're all up to speed.
Anyway, there are many games being played on Thursday this week because HIGH SCHOOL FOOTBALL COACHES DON'T LIKE RAIN, JMAKE, AND WE AIN'T MESSING UP OUR #FIELDS, so I'll be talking about some of those in this humble segment, as well.
Speaking of rain, we're going to have some on Friday. Fortunately for me, I'll be in the pressbox at Vardaman High School doing what I do, so I will be mostly dry, but the rest of you poor souls will probably not be.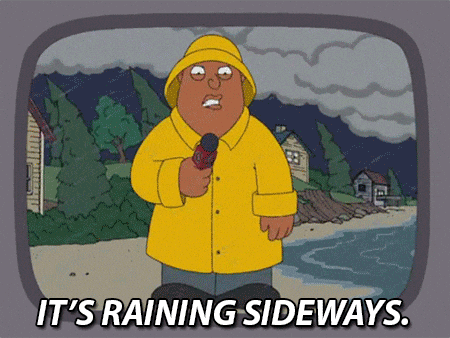 I'll probably have some weather-related Takes at the end of this piece, even though most of you hate me for that because they're usually right. Maybe I should become a meteorologist instead of a sportswriter.
Never mind. Let's dive into this week's Takes, shall we?
1. No. 1 Hattiesburg rolls the Maroon Tide. (Get it? 'Cause "Roll Tide?" I love puns.)
Let's talk about what Hattiesburg is doing to opposing teams this season. Here's a brief demonstration: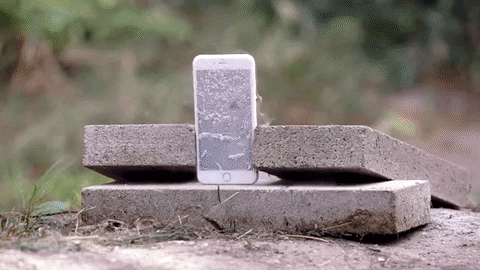 For those of you who aren't visual learners, Hattiesburg = sledgehammer and literally every other team they've faced = smartphone.
Snoop Conner and company are absolutely demolishing everything in their wake this season. Hattiesburg has outscored its opponents 380-118 so far in 2018, and although Picayune rolls into the 'Burg with a 6-2 record, their four-game win streak will come to a close on Friday. Hattiesburg stays atop our Top 10 for another week.
2. Oxford steamrolls Columbus.
Columbus is winless, and I've come under the impression that Oxford may be one of the ten best teams in the state. After their blowout loss to Starkville, the Chargers have reversed their fortunes on the gridiron and have looked good in the process, including in an upset win over Lafayette and almost knocking off No. 2 Horn Lake last week. Now, I've had some tell me that they never had any doubt that Horn Lake would win last week's game, but the majority of Twitter (myself included) was not feeling that vibe. Even though Oxford struggled offensively, I don't see how you can enter the fourth quarter with a 17-14 lead and think you've somehow lost the game.
Anyway, that's not important. What is important, however, is that, like Texas, Oxford is #back, and they'll have no problem showing the Falcons that on Friday night.
3. No. 2 Horn Lake keeps rolling with win over Hernando.
Speaking of Horn Lake, we might as well get this Take out of the way. I don't expect this one to be much of a contest, but I include it because Horn Lake escaped somewhat of a scare last week against the aforementioned Chargers. The general consensus is that Horn Lake has a very good offense and a very good defense, which, in most cases, results in a very good football team. Still waiting to confirm.
I think that Horn Lake shows everyone again on Thursday night why they're the No. 2 team in the state, and possibly why they should be considered at No. 1. Give me the Eagles pretty big.
4. MRA hands Oak Forest its second loss.
Everyone: "Jackson Prep is the class of private school football! No one is good enough to topple their dynasty!"
MRA: *beats Prep by 21 points*
Everyone: "Oh."
This was possibly the biggest story to emerge out of high school football last week. After the game, I was asked if Ole Miss-commit and projected-high MLB Draft pick Jerrion Ealy played for Prep on Friday. Spoiler alert: he did, meaning that MRA is really, really good.
Oak Forest Academy comes into Friday's game at 8-1, and while the Yellowjackets are a solid team, I can't pick against the team that just knocked off Jackson Prep.
Give me the Patriots.
5. Biggersville suffers its first loss of the season.
It's been a running theme for me to talk about Biggersville each week as the Lions, who have had very little success on the gridiron historically, have reached the 9-0 mark in 2018. While Biggersville is undefeated and certainly has a talented football team, I'm picking the Lions to finish third in Region 1-1A, with the first of those two region losses coming on Friday against Okolona.
Okolona was my favorite to win 1-1A this season, but Smithville toppled the Chieftains a few weeks back, meaning that they'll need some help if they want to secure the division crown. Although Okolona doesn't control its own destiny en route to the region title, they can still host a playoff game in the first round if they win out and secure the two seed, which I expect them to do. Biggersville may be undefeated, but we'll learn a lot about where the Lions actually stand in the coming weeks as they host the class of the region in Okolona and Smithville.
I like Okolona to win by a couple of scores on Friday.
6. Smithville routs TCPS.
Speaking of Region 1-1A, I think that we're seeing all four playoff teams from that region battling this week. I have TCPS going into November as the four seed out of Region 1-1A, and I think they're facing the team that will win that region on Friday. TCPS is another team that has turned things around after losing its football program back in 2013. If the Eagles make the playoffs this season, it'll be just their second appearance in school history, with the first appearance coming last year. Although I like TCPS to secure a playoff bid at the season's end, I don't think they can knock of Smithville.
Give me the Seminoles by three scores.
7. Tupelo-DeSoto Central isn't decided until the fourth quarter.
I picked the Golden Wave to beat South Panola last week. I was also wrong.
Tupelo fell to Ricky Woods and the Tigers 21-7, and with Horn Lake and Oxford looming on the schedule, that result could affect Tupelo's playoff seeding.
There haven't been a ton of games that the Wave felt comfortable in this season. Part of that has to do with some early-season injuries, but Tupelo just hasn't looked as sharp as I expected at times. I think they pull this one out on Thursday, but not without a fight from DeSoto Central. I expect this one to be another close contest for the Golden Wave, one that isn't decided until the fourth quarter.
8. East Union holds off Baldwyn in a thriller.
I was very, very close to picking the Bearcats to win this one, but I just couldn't pull the trigger. Baldwyn started off the season 0-5 before opening up a 3-0 start in region play and surprising a lot of Mississippi folks. Although this will be Baldwyn's last regular season contest, they've solidified their spot in the postseason, and it will be interesting to see how all of that unfolds.
Whoever wins this game will hand the other team its first region loss, and I expect the Bearcats to put up a fight, especially late. Still, I like East Union to get the job done on the road tonight.
9. Houston takes care of Aberdeen.
I like what Aberdeen has put together to this point in the season as they enter Friday's game at 5-4, but I'm also a big fan of Jalen May and the Hilltoppers. I've seen the Toppers in person once this season, and I came away very impressed. Houston has suffered from some slow starts this year, so the Bulldogs could strike for a score or two early, but I think that May and the Houston offense will prove too much for Aberdeen to handle. Give me the Toppers by three or more scores.
10. Weather delays...don't we love them?
Yes, yes I know. Rain.
Many coaches had some Chicken Little tendencies this week and rescheduled their games to tonight instead of playing them tomorrow.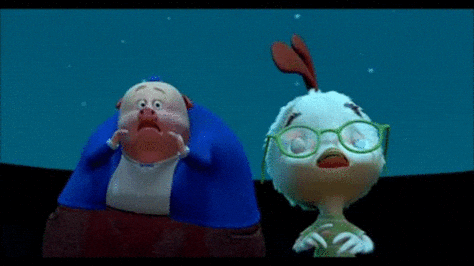 We may all be laughing now, but at least these games have no threat of weather delays. I expect we'll see plenty across the state tomorrow night, even if no severe weather is predicted. We'll at least see some crowd sizes lessened, which could hurt schools more than an actual delay.
Rainy Friday nights almost always mean strange nights where high school football is concerned, and we'll probably see that tomorrow, as well.
Let's get weird, guys.